Charles-Thomas Dion, son of Louis Edouard Dion and Marie Marguerite Vezina,

Tom, as he was known, married Josephine Jette in Suncook, NH, USA on July 8, 1875. I retrieved the actual record from St. Joseph's Church in Suncook. Somehow, Tom and Josephine ended up in Bristol, RI, USA, where they had 7 children: George (b. 1890), Ida (b.1884), Emma (b. 1882), Albert (b. 1886), Thomas (b. ?), Josephine (b.?), Lewis (b. 1887). George is my grandfather. Josephine Jette dies in 1893 in Bristol and Tom married Elise Martel shortly thereafter in Fall River, MA.

Here is a picture sent to me by Faye Dion who is the grand daughter of George. I cant' thank her enough for this bit of family genealogy and history and this picture. I sat and looked at it with a smile it took 2 hours to wipe off my face. Looked for ressemblance, looked at each detail on the picture.

It is thought that the picture is of Tom and Charles Victor Dion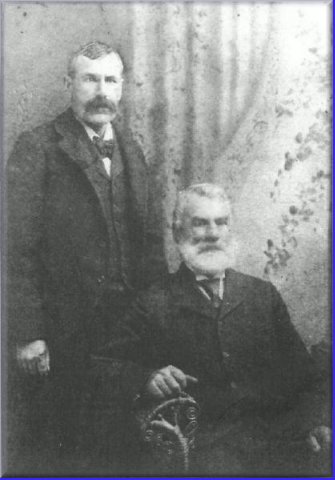 Here is another picture I have of Charles Victor with his wife
the resemblances are sure there.